Windows 11 Pro & Office 2021 Pro Plus - 1 PC
Manufacturer: Microsoft
Version: Windows 11 Pro + Office 2021 Pro Plus
Delivery time: Immediate, by mail
Qty : 1 product key for 1 PC
Validity: Permanent, updateable*
Support : By mail
Multilingual : All languages available
Support : 24/7
- EASY TO INSTALL AND TO ACTIVATE.
- YOU CAN ACTIVATE YOUR PRODUCT ONLINE JUST BY ENETRING THE ACTIVATION KEY .
100% secure payments
Security policy
You are on a website secured by SSL & TLS technology
Delivery policy
Consult our delivery policy
Return policy
Read our cancellation policy
Innovations for everyone in Windows 11

Windows 11 is Microsoft's new operating system. It features a redesigned look and work, entertainment and creative tools that will help you be more efficient in everything you do. Windows 11 has everything you need and more. It's the best tool for staying efficient, productive and connected to the world.

STAY PRODUCTIVE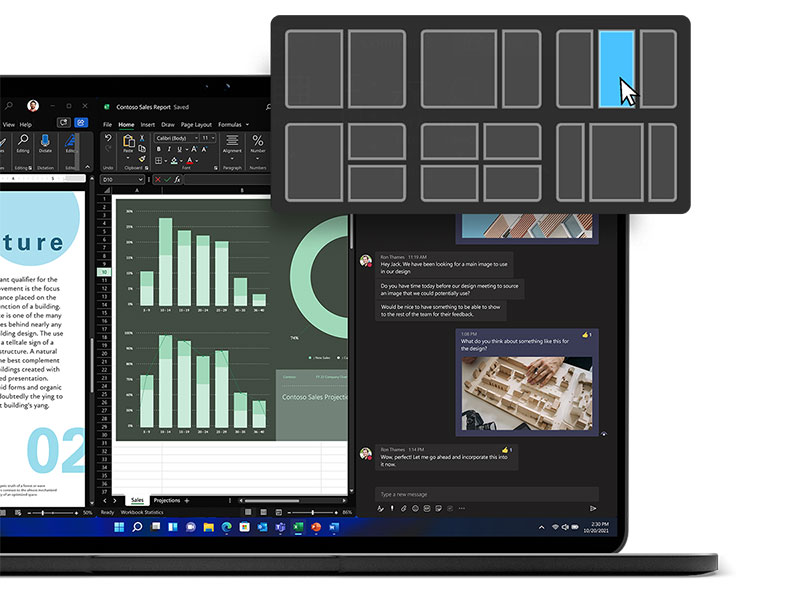 Windows 11 has easy-to-use tools that let you optimize your screen space and productivity. Combine it with a Microsoft 365 subscription (additional cost) and nothing can stop you from getting things done. It's simple and efficient thanks to a streamlined, simplified user interface, you easily stay organized with Anchor Layouts and Anchor Groups. Windows 11 is packed with easy-to-use tools that let you optimize your screen space and productivity.

COLLABORATE INTELLIGENTLY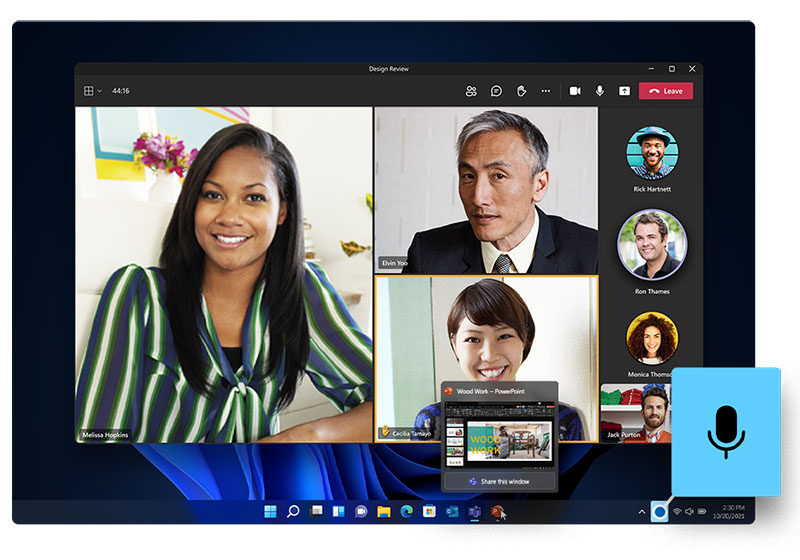 With further Teams integration, organize efficient online meetings by sharing, muting and reactivating sound directly from the taskbar.

STAY FOCUSED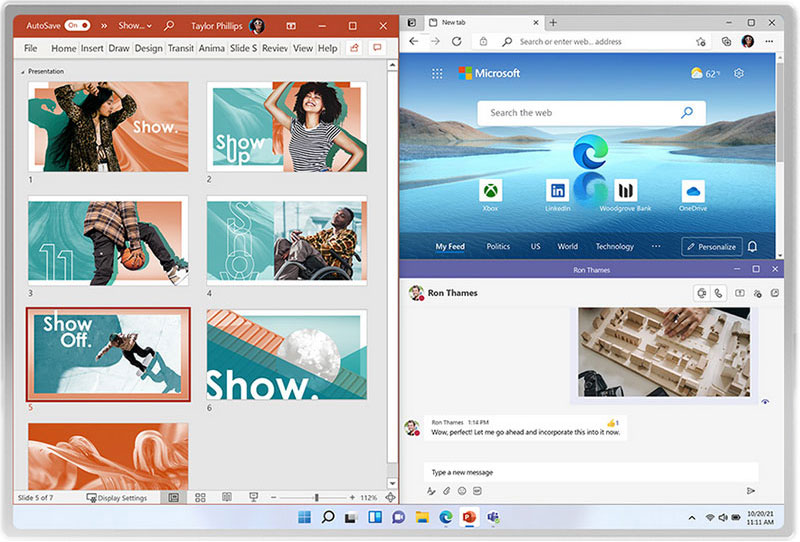 Microsoft Edge, Microsoft Teams and the apps you need work seamlessly with new multitasking tools such as Anchor Layouts, Desktops and the new, more intuitive repositioning experience.


System requirements :


| | |
| --- | --- |
| Processor : | 1 gigahertz (GHz) or more, with at least 2 cores on a compatible 64-bit processor or system-on-a-chip (SoC) |
| RAM : | 4 gigaoctets (Go) |
| Storage : | Storage device of 64 GB or more |
| System firmware : | UEFI-compatible secure boot |
| TPM : | Secure Platform Module (TPM) version 2.0 |
| Graphics card : | Compatible with DirectX 12 or later with WDDM 2.0 driver |
| Display : | High-definition display (720p) over 9" diagonal, 8 bits per color channel |
| Internet connection and Microsoft account : | Windows 11 requires an Internet connection and a Microsoft account. |
Microsoft Office 2021 Professional Plus for Windows PC
Microsoft Office 2021 Professional Plus is the latest development from Microsoft, available for PC and Mac. Although recent competition has been fierce, Microsoft Office is still considered the most popular set of productivity applications on the market.
Improved Office Applications
Microsoft Office 2021 Professional Plus includes new and improved versions of Word, Excel, PowerPoint, Outlook, Access and Publisher.
Microsoft Word 2021
Microsoft Word is considered the best word processor available on the market today. Word 2021 makes it easy for users to create engaging content with a number of new features, including:
Dark mode to reduce eye strain
Enhanced drawing tools, including a new dot eraser, ruler and lasso
New text-to-speech capabilities
Enhanced search field features
Support for OpenDocument (ODF) 1.3
MicrosoftExcel 2021
Microsoft Excel has been the most popular spreadsheet program for many years. It provides all the necessary tools to create charts and perform complex calculations. Excel in Office 2021 has improved the spreadsheet experience and added new data analysis features including:
XLOOKUP feature - helps users easily find data in a table or range by row
XMATCH feature - allows users to search for a specific item in a range of cells and returns the item to its relative position
Enhanced charts and graphs
Updated drawing tabs
LET function - assigns names to calculation results
Microsoft PowerPoint 2021
Microsoft PowerPoint presentations are the backbone of most professional presentations. With PowerPoint 2021, users can create more impactful and fluid presentations with enhanced features such as:
Improved Morph and Zoom functionality
Ink Replay - allows users to replay or rewind ink drawings
Co-creation capabilities
New stock images, icons and more
Microsoft Outlook 2021
Manage email more efficiently. Focus mode blocks distractions and puts your content front and center. And Focus Inbox weeds out less important emails, so you can get right down to business.
Email sorting made easy
Focused Inbox
Never miss a reminder
Mark emails as read when deleting
Automatically download cloud attachments
Microsoft Access 2021
Microsoft Access 2021 is an advanced database management system used to store, classify and structure information for reporting and analysis. Microsoft Access 2021 analyzes large amounts of data faster than programs such as Excel. Microsoft has enhanced the Access 2021 experience and offers a number of improved features, including:
Updated Linked Table Manager
New extended date/time data
Keep track of database objects
System requirements:
| | |
| --- | --- |
| Includes: | Lifetime license key and download link |
| Méthode d'installation: | Installation method: |
| Supported devices: | 1 device |
| Supported operating systems: | Windows 10, Windows 11 |
| Minimum hard drive space: | 4 GO |
| Minimum memory : | 2 Go (32 bits) / 4 Go (64 bits) |
| Vitesse minimale du processeur : | 1.6 GHz, 2-core processor |
Refund policy
Once a purchased software has been activated or an activation has been attempted via the Microsoft site, the software becomes non-refundable according to article L.121-20-20 of the French Consumer Code (Code de la consommation). We cannot add the software to our stock if an activation has been performed or attempted.
We cannot issue refunds if a customer has purchased the wrong product.
Example: a customer buys Windows software for a Mac computer.
Orapeco strives to provide our customers with superior support when it comes to our return services. To ensure that our customers are satisfied with the product(s) they order, we offer a 14-day money-back guarantee, if the download has not been attempted,

Exchanges

Orapeco will exchange software purchases up to 14 days after order completion, but only if the software has not been downloaded by the customer, you may also return your purchased software within 14 days if the software is still not downloaded for a full refund.


Refund process

Refunds will be credited to the credit/debit card customers used to place their order, refunds are processed from our platform immediately, the time taken to credit the customer depends entirely on the customer's card issuer and/or bank account.


How to initiate a refund/exchange

Please contact us by e-mail at support@orapeco.fr to arrange a refund/replacement.
"Excellent products and excellent service." - Josephine
"Excellent value. High quality products at reasonable prices." - Warren
"Outstanding customer service." - Jack
"You're the best! Thank you!" - Tatiana
Reviews about this product
Show attestation
Merci beaucoup, livraison rapide et la clé d'activation a fonctionné sans aucun problème. Je le recommande.

Car je n'ai rien à dire de particulier. J'ai reçu le produit le jour même de la commande. Le produit est bien installé. Lien direct e

Rien a dire au top, installation rapide en même pas 1 min c'est installé

Super rapide et sûr. Je le recommande!

Merci pour votre rapidité

J'ai obtenu une aide rapide
3 other products in the same category: